As I
mentioned earlier
, last week I joined my brother and his colleagues on a circuitous ride from LaVell Edwards Stadium in Provo, UT to Romney Stadium in Logan, UT, where we attended the football game between BYU and Utah State. Since riding my bike is pretty much all I did last week, here's a brief rundown of how each day went.
Monday
: day before the actual ride, but since I was in Utah, I decided to meet up with some friends while I was there. First I met
Mark N.
for a MTB ride on the Bonneville Shoreline Trail North of Salt Lake City. Mark had had a stressful couple of weeks at work, so he decided he needed to work out some of that stress on the bike. We climbed a very rocky, steep trail, and then descended the same. I was glad for gears and front suspension.
After the ride with Mark, a stop at
SLC Bicycle
for more
Carbo Rocket
, and
some lunch
, I met up with
Dug
to ride Emigration Canyon to Big Mountain. This was the first time I'd been back to Emigration since being
caught in the snow
with my brother back in May. Let's just say that the ride went a whole lot better this time. The highlight, though, had to have been the guy up at the top wearing nothing but white bib shorts. That was hot.
Cumulative stats: ~50 miles and ~5,000 vertical feet
Tuesday:
first day of the "real ride." We started from LaVell Edwards stadium, where we went out on the field and took pictures before hitting the road. We plucked some grass from the field, which we intended to sprinkle at Utah State upon finishing the ride. After calling in to
the Zone
, who were event co-sponsors and would send Hans Olsen to ride with us the final day, we started to ride, I with a game ball stuffed in my jersey. It was to be our longest day at ~120 miles and more than double the climbing of any other day.
We weren't into it very far when
Ty
noticed a problem with his crank--the left crankarm was working its way loose. We stopped and tightened it a couple of times, but the third time we did so, the threads stripped, and we could tighten it no more. After a call to
Racer's
, we sent our support vehicle back to Provo, and I replaced Ty's FSA crank with an Ultegra SL in the parking lot of the 7-Eleven in Midway, UT. Ty goes about 260 pounds, so I think the Ultegra will be a little more durable than the carbon FSA anyway.
That repair was done just in time for our biggest climb of the day, from Midway, past Jordanelle reservoir, to Francis. After lunch at a greasy drive-in in Kamas, it was just a matter of grinding out a lot of miles until we got to Evanston, WY. I was surprised how slow our group was moving, and while riding up Chalk Creek Canyon with thunder clouds on three sides, I was certain we would get caught in the rain, dark, or both. Fortunately we made it to the hotel just before dark, also avoiding the rain. It was late enough that we didn't feel like going out, so we ordered Pizza Hut and ate while watching baseball in our rooms.
Cumulative stats: ~170 miles and ~11,000 vertical feet
Wednesday:
my parents, along with Steve's wife, Marco, joined us on Wednesday for the ride from Evanston to Bear Lake. The longest Marco had ever ridden before was 16 miles, so to try and ride this far was quite an undertaking for her. She did great and was all smiles, including the 8 mile climb over the mountains separating Woodruff from Bear Lake. The pace had been slow enough that I wanted to make sure I earned my milkshake at LaBeau's, so I went hard and rode the climb like a TT. When I got to the top, I turned around and headed back to see how Marco and Ty were doing. They were spinning along, all smiles. Not very fast but certainly happy--just what I hoped.
I headed back to the top and along with Steve and Tim, decided to descend without pedaling and see who could coast the furthest when we got to the flats. The descent was several miles of 6-8% grade, so we got some speed. Unfortunately at about 45 mph, I also got hit with a cross wind that gave me the worst wobbles I have ever had. I tried to relax and did everything I could, but the bike was shimmying so bad that I was certain I would go down. I managed to bring the bike to a complete stop, got my nerves about me again, and continued on.
On the flats around Bear Lake, Ty and Garn were riding ahead of the group. Ty touched Garn's wheel and went down hard, smashing his helmet and glasses. A short time later, Marco also went down, fortunately at slow speed, so all she suffered were a few scrapes. Lucky for us, they were unhurt and still happy by the time we got to LaBeau's.
After burgers and milkshakes, my mom asked what our mileage was for the day. Someone said 64 miles. She teaches second grade and had told her students she was riding 70. Which meant she needed to pedal a few more miles. The two of us took off on our own and rode up to the Idaho border then back to where we were staying. She exceeded her 70 mile goal, and with my turnaround on the hill, I was closer to 80.
Cumulative stats: ~250 miles and ~13,000 vertical feet.
Thursday:
probably the funniest thing that happened on the entire trip had nothing to do with the bikes. Garn doesn't like to sit still, so after breakfast Thursday morning, he went out to the truck, expecting the rest of us to follow and get on with the day. Suspecting that it would drive him nuts to just sit there, we waited in the restaurant until he came back for us. But he never returned. After nearly an hour, we decided to sneak out the side door and around behind the restaurant and walk back to the hotel without him knowing. We were almost back to the hotel when we heard his truck. He almost drove past us, then did a double take and came back. I thought he was upset, but then he started laughing hysterically. He didn't even know we had left, so was shocked to see us walking up the road. We laughed about it for the rest of the day until we got to our hotel, at which point we had even more to laugh about.
We made good time towards our destination of Lava Hot Springs, ID. We would have arrived without incident except that on the final climb of the day, Tim broke his derailleur hanger, sending his rear mech into his wheel and breaking one of his spokes. He got on the spare bike and finished the climb and descent into town.
When we arrived at our hotel, we all had visions of
The Shining
. The place had been a hospital where injured veterans were sent to recover during WWI. It was odd to say the least. But as we walked around town looking for somewhere to watch football and grab a bite to eat, we found that the whole town was weird. Something about the hot springs attracts a strange crowd to this "resort" town. During dinner, the adjacent table was occupied by a mom and her son, who seemed quite normal. When Garn told them they were the only normal people we had met, she said "Oh, we're not from here." They were from nearby Inkom. Garn told them it was good they were not from town or staying here, especially since our lodging for the evening was like the
Bates Motel
times The Shining, with Norman working the front desk.
Cumulative stats: ~330 miles and 15,000 vertical feet
Friday
: the final day of our ride was also the most challenging logistically. We had arranged for Hans Olsen to ride with us for about half of the day and also to meet up and ride with the Athletic Directors from both schools for the final seven miles. Making it to the rendezvous with the AD's on time required an early start. We also had Mike, the ad manager from the Zone, and his friend Craig riding with us.
Knowing that the climb out of Lava Hot Springs would take us about an hour and have to be done in the dark to keep our schedule, the group decided to shuttle the climb and begin with the descent. With as cold as it was, Mike and I wore jackets on the descent. I took mine off and handed it up to the truck. The drag from Mike's was slowing him down, so I drifted back to help him with it. I should have told him to just stop and take it off. As he was pulling off the second sleeve, the jacket hit his front wheel and got pulled into his fork. He endo'd instantly. Even though he came down on his head, he was unhurt and continued the ride.
When we met up with
Hans
, I was first in shock at how big his bike was (he rides a 62), until I actually saw him. He's a giant of a man and generates enough force with each pedal stroke to cause the frame to flex visibly. I'd love to see what kind of wattage he puts out in a sprint.
Shortly after picking up Hans, we arrived in Smithfield, where we met
Scott Barnes
and
Tom Holmoe
. We delivered the game ball to Tom for him to pass along to the team. Due to Tim's mechanical issue the day before, he was on the spare bike we had brought for Tom. Our support truck had picked up a rental tandem that Tim was going to ride with Hans, but when the AD's saw it, they decided they wanted to ride it together. It was quite a sight, especially since Scott is about 6'9" tall.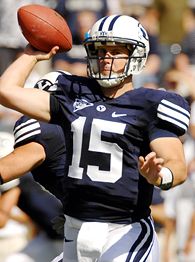 We all made it to the stadium without incident. Upon arriving, Scott escorted us onto the field, where we took pictures and celebrated the completion of the event. Then we got what was for us a real treat: Tom let us into the BYU locker room to shower and change (the players and coaches hadn't arrived yet). We of course took advantage of the opportunity to walk around and check out everyone's equipment and get our pictures taken in front of
Max Hall's
locker.
After cleaning up and grabbing some dinner, we returned to the stadium for the game. The first quarter gave every indication that the game was going to be a blowout, with BYU putting up 24 unanswered points. But I think
Bronco Mendenhall
was being too much of a gentleman, not calling the game in such a way that would really put Utah State away, so the players lost their intensity. After a scoreless second quarter, Utah State outscored BYU in the second half, for a final score of 34-14.
When Utah State scored their first touchdown, you'd have thought they won the game for the crowd's reaction. My parents, though cheering for BYU, were watching the game from the President's box. The reaction there was one of satisfaction for playing the game as close as it was. My dad and I agreed that it was more a case of BYU just playing like crap. (I still can't figure out, however, how USC could leapfrog BYU in the AP rankings, especially since the team that beat USC, Oregon State, just lost to BYU's MWC rivals Utah. Don't the pollsters realize that there's a lot more parity in college football than there used to be? How many BCS schools do BYU, Utah, and Boise State have to beat in order to get them to realize this? One win would be lucky, but consistently winning indicates something more than that. The Big 10, Pac 10, Big East, and ACC certainly are no better than the MWC and WAC this year, and the head-to-head results have proven it.)
Cumulative stats: ~410 miles, 17,000 vertical feet, fueled with two cheeseburgers, two steaks, one milkshake, three dishes of ice cream (one with hot fudge), five slices of pizza, pancakes, oatmeal, eggs, sausage, and hashbrowns, almost a dozen energy bars, a couple gallons of carbo rocket, and lots of diet coke. At the end of it all, my legs, taint, and sit bones were sore, but there is no way you could get me to give up Louis Garneau airgel bibs or
DZ Nuts
.
The route was fun and beautiful, but the company made the ride. When we weren't pedaling, we were laughing, good-naturedly poking fun at one another, and generally having a great time.