Mount Superior can be a foul, even frightening place to ski. But she's home to some of the biggest, most aesthetic lines in the Wasatch, and when conditions are right, the snow can be absolutely exquisite.
Take this morning, for instance. Ben, Mike, and I met at 5:00 a.m. at LCC. I had no idea what we were going to ski. When Mike said the South face of Superior, I almost turned around. I wasn't sure I wanted to walk that knife-edge ridge again. But I couldn't not go, though I did harbor thoughts of trying to convince them to ski Days instead.
To my surprise, conditions were MUCH better for climbing this morning than last time we were up there. To the point that I didn't get freaked out at all, and we were able to skin to the top rather than having to boot from the ridge up.
Ben is a crazy fast hiker, so a little above the Black Knob, he had put up enough of a gap on us that he dropped a sweet line off the Northeast shoulder. When we got to the top, this complicated our decision: should we ski the South Face and get on with our day, or should we ski the North Face, since Ben described his line as the best run he'd had all year?
We hit the North Face. And I felt like a pro, because Ben ski cut the slope for me, and then went and positioned himself on the adjacent ridge where he could film me getting first tracks for 1,000 vertical feet of thigh-deep snow. I thought I had died and gone to heaven. Mike followed and was just as giddy when he got to the bottom.
The tradeoff for Ben being cameraman was that Mike had to film him on the South Face. On our way up, Ben, never content to just ski the standard line, showed us the cornice drop and spines he wanted to hit (in the photo below--thanks AM--it's lookers left of the pointy summit, right where the ridge starts to flatten out; Mike and I just dropped it straight down the middle).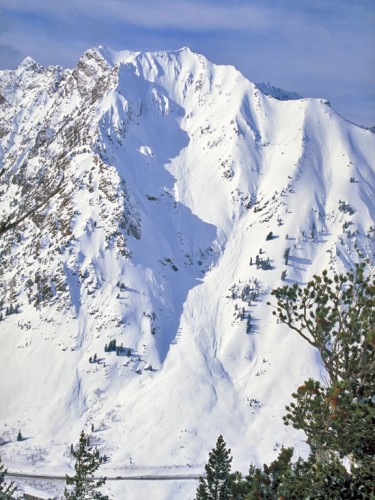 From the summit, I could only see Ben's first two turns, but based on that I'm pretty sure Ben could go toe-to-toe with any skier anywhere—he looked that good.
What I didn't see was that he also kicked off a huge sluff slide that filled the chute he was dropping into, and he was nowhere to be seen at the bottom. Suddenly, instead of focusing on my descent of the South Face (which is a 40+ degree shot that funnels into a narrow chute), I'm wondering whether Ben is buried and we need to dig him out.
I rushed the descent, didn't look good doing it, traversed over to the debris pile below Ben, and saw him up there waving. It was so good, he couldn't bring himself to ski through the debris and had to hike over to another chute where he could get first tracks. He described the first line as the best 15 turns of his life.
The rest of the way down was mellow turning through knee-deep fresh that was just starting to get heavy from being in full sun.
Back at the car I realized I was starving and my legs were completely cooked--things I somehow failed to notice on the mountain. Conditions like today—no wind, sunny, stable snow that's deep and fluffy—happen at most once per year on Superior. I'm glad I didn't miss it, even though Dug told me he'd like me to piss off, told me twice that he hates me, and assured me that if I did something involving my lips and his derriere, he would feel much better about missing it.
P.S. Once Ben sends me the video, I'll post that too. Could be later today, could be in a week, could be never.