A couple weeks ago, Adam was out on a tour in new boots that didn't fit quite right. He was suffering badly by the time we got to the car, and this is a guy who does things like riding White Rim on back-to-back days for fun. So you know it hurt.
Back at the car, he said "forget waterboarding. If we really want to torture prisoners at Guantanomo, we should just make them hike around in ill-fitting ski boots."
Last week, I saw Elden at SLC Bicycle. Ostensibly he was there to get his new Superfly Single Speed built up, but he was also trying on new shoes. I remembered that a couple years ago, he'd had trouble with his shoes during the Kokopelli Trail Race. I asked if those were the shoes he was replacing. "No," he said. "I could never bring myself to put those shoes on again, so I got rid of them."
I've had my own share of challenges finding ski boots that fit, and at one point it almost drove me to take up snowboarding. Almost. I shudder to think about it.
My point is that when it comes to adventure sports, if you're feet aren't happy, you aren't happy.
I recently posted about how happy my feet were when backcountry skiing in Ladies' Smartwool Stripeuccino socks. Well apparently Zach over at Smartwool knew I could be happier still, because a couple days later, I got this email:
I just wanted to let you know that I did see your comments about ultra light ski socks. I'm glad you're enjoying the Lifestyle socks in your boots but want to make sure you have a chance to give our PhD Ski Ultra Light a shot.


These socks feature the WOW Technology for comfort and durability and 4 Degree Fit System for the unparalleled fit you've experienced in our cycling socks. These are my go to sock on the mountain and I think you'll enjoy them too. I'm sending 3 pair your way and you should see them soon, so keep an eye on your mailbox. Give me a shout if you have any questions.

Enjoy and think snow!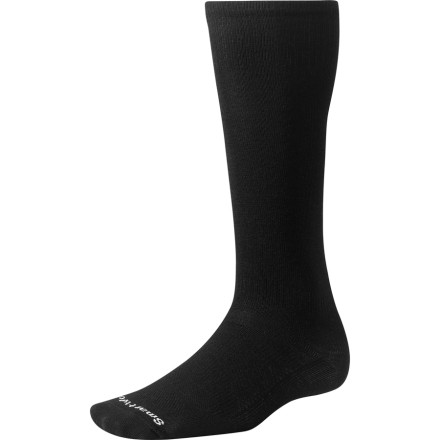 I wore the PhD Ski Ultra Light socks yesterday and the day before, and they're wonderful. The fit is outstanding—they stay in place with no bunching or rubbing. They're super thin, which I like (they also make thicker versions if thin's not your thing), so the feel and responsiveness in my boots is uncompromised. And they're warm. Even when they got a little sweaty (which happens if you're trying to catch Ben on the climb), they didn't feel cold, damp, or clammy.
Plus they've got the Smartwool feel, which I just find comfortable, and which is why I wear Smartwool socks nearly every day (I have about 17 pairs), whether on skis, bikes, hiking, or just at the office.
Adam was in a pair of these socks yesterday as well. And between the socks and some new footbeds, his dogs weren't barking, and he was a happy skier.
As an added bonus, since I didn't ski in my lifestyle socks, I had a clean, dry pair to put on when I was finished and got to enjoy wearing those—for their intended purpose—for the rest of the day. My wife asked me if she could have them since they are, after all, ladies' socks. I told her no. But maybe I'll go buy her some of her own. Because I love my wife, and I want her feet to be happy, too.